It has certainly been an intense couple of weeks and I've been thinking a lot about ways to find meaning during these challenging times.
I know for all of us, and especially for those of us living in the United States, things have been very intense.
As we try to find ways to help and to be of service to our communities, I'd also encourage you to not feel that things need to only come from our external world but that instead, YOU can be the change you seek.
Your actions, the way you help, the choices you make, and the relationships you build on a daily basis can create an incredible difference in this world.
Often times when we see such turmoil in our external reality, it can be easy to feel helpless and overwhelmed.
And while there is always a place and space to acknowledge these emotions, I'm a firm believer in trying to shift all that energy into inspired action.
I presented my Musician's Profit Umbrella™ 5-day free online training about a month ago where I shared my entrepreneurial journey while also helping women from around the world gain the clarity they need to take inspired action and significantly increase their impact and income – without sacrificing their artistic dreams or family life.
In thinking of ways I could be of service during this time, I realized that this 5-day training experience captures a great essence of my way of being the change I seek in this world.
This is why I wanted to share it with all of you today to encourage you to take inspired action to create your own way of impacting the world.
It is through this experience of creating your own plan and clarifying what you can do with your potential, that you can feel empowered to create a meaningful life for yourself, for your family, and for the people you serve through your work and your talents.
This in turn can be a great way to contribute to your reality today, to find the meaning behind what you do, and to ultimately make our world a better place.
I hope you give yourself the opportunity to take this exciting and empowering journey.
If you can think of anyone else who could benefit from this free training, feel free to forward this blog post to them.
You never know how a simple sharing gesture can be life-changing for someone.
I want to thank all of you for being a part of my community.
If there is anything I can do to help during this time, let me know in the comments below. I'm here to support you!
Watch my free training here.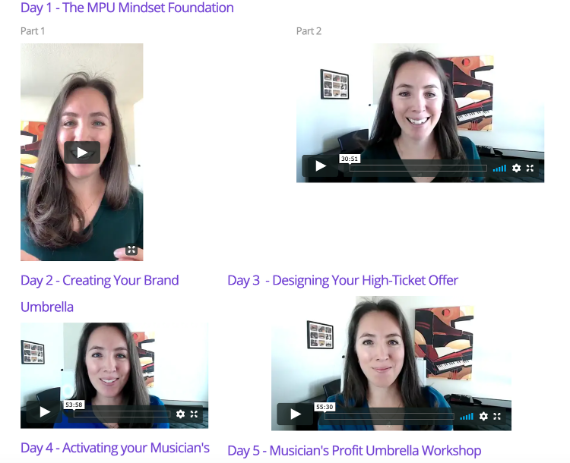 PS. Don't forget! The Musician's Profit Umbrella™ Group Coaching Program for Women Musicians will soon be closing its doors! There are only a few spots left. The program starts on June 15th. Apply now so we can discuss together your possibilities and see if you'd be a good fit for my program.