It is my pleasure to announce the first in a series of Facebook live video interviews featuring musician mothers who homeschool.
I'm hoping these conversations will help all of us musician mothers who, because of this pandemic, are of the sudden needing to learn how to juggle working from home while also homeschool our kids.
Tomorrow's kick-off interview will feature soprano and homeschooling mom, Maria Antunez.
Among the topics we'll be covering include:
Tips and strategies to be able to get things done at home while also helping our kid's learn and grow.
Lessons learned from being a musician mother
What we can all learn from the current challenges we face as a society
In addition to being a professional soprano, Maria has been a homeschooling mom to her 5-year-old daughter, Amelia. She and her husband, tenor Martin Nusspaumer, are originally from Uruguay and have been living in Miami, FL for the past several years. You can learn more about Maria by visiting her website.
More details can be seen in the flyer below.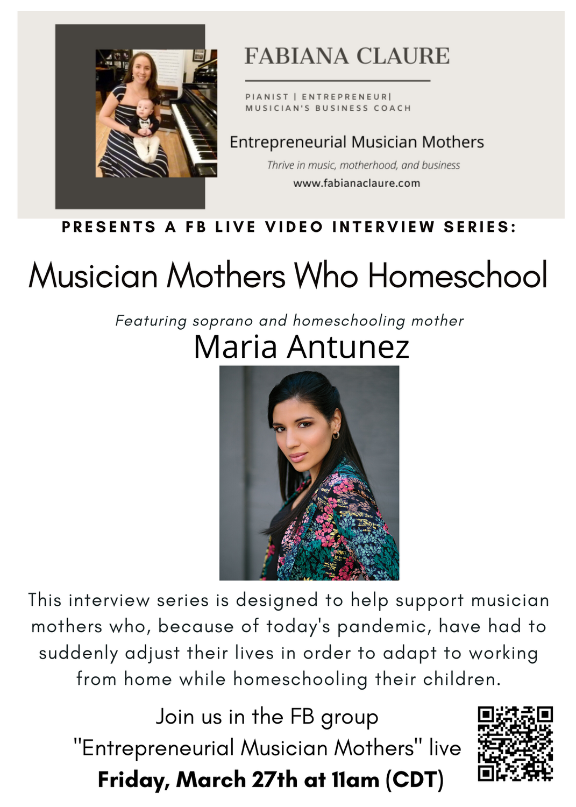 I look forward to having you join us tomorrow in my FB Group "Entrepreneurial Musician Mothers." Be sure to post your questions and comments during the livestream so Maria and I can answer them live.
'll be going live using StreamYard. Once logged into Facebook, before leaving a comment on the livestream, please grant StreamYard permission to see your name at streamyard.com/facebook
I'll "see" you tomorrow!
Sending you much love,
P.S. Our next interviewee will be concert pianist and homeschooling mother, Rosa Scott, and she'll be interviewed on Monday, March 30th at 11am (CDT). More details coming soon!