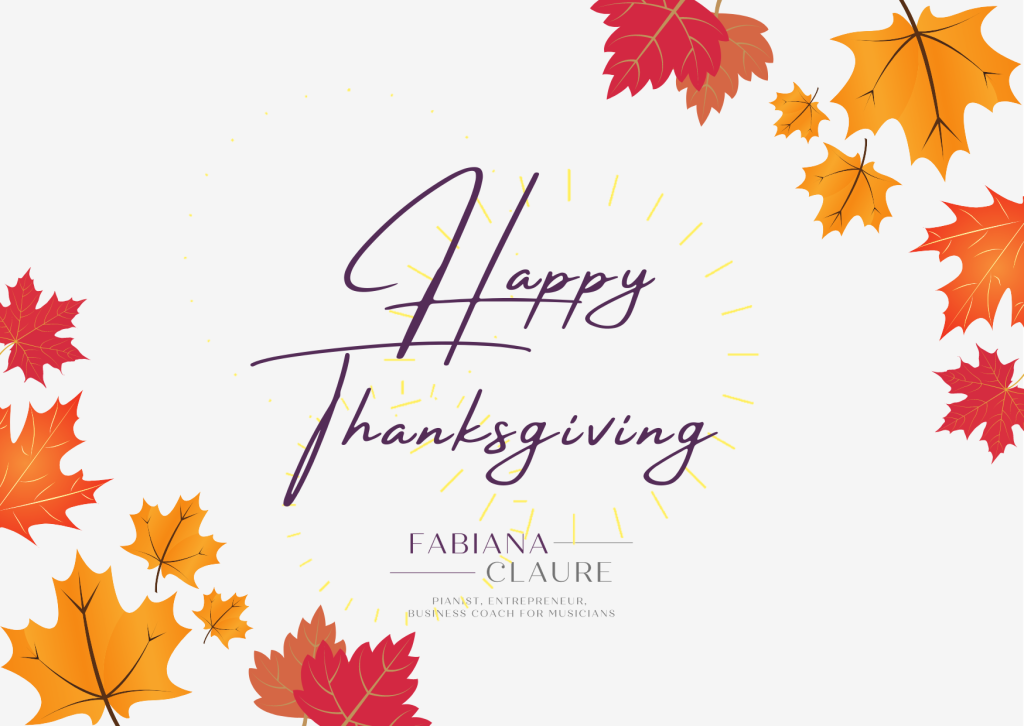 This Thanksgiving, I want to share a bit about gratitude.
I myself am very thankful and grateful for not only being able to pursue my passion for music with my business, but I'm incredibly grateful for each and every one of you. Working with you and learning your stories and seeing your business endeavors grow is a gift and I am so thankful that you've allowed me along on this journey with you.
So, what does it mean to live in a state of gratitude? When we operate from gratitude, we thankfully accept what we have as real and deserved and we envision what more is possible. We put ourselves in a frequency of possibility.
The major problem most musicians face in their pursuit of passion is not being able to balance that lifestyle with the traditional demands of earning a steady income. This leaves us with a fragmented lifestyle where we're making very little money, spreading ourselves thin, and squeezing our own goals into our very limited spare time.
As musicians, it's easy to feel out of place in the working world. We do so many things that lead to different results. We teach, we perform, we lead our teams, we organize our businesses, we create and innovate, and yet, it can oftentimes feel that all of that is not enough simply because we are split in so many different directions.
It's all about creating a unified sense of identity; cultivating those overarching themes that tie together all of our endeavors.
The reality is all of the skills and experiences that make up who you are are much more powerful when working in tandem. Once you start treating your skills like spokes on a wheel, you'll start truly seeing results.
Why? Because everything you do speaks to who you are and what you value, and this allows people to connect with and be inspired to work with you. Consolidating all of your assets under one brand umbrella makes you much more accessible, and cohesive, and you then have the ability to double and triple your opportunities within your own brand ecosystem. This will allow you to spend more time earning more income all while doing what you love.
So, this Thanksgiving, go beyond giving thanks and open yourself up to a life of gratitude. You deserve all the good things you have, and you are deserving of your future dreams to come true.
Gratitude opens up opportunities and ideas and one of my own main goals is to help other musicians go after their dreams and to balance financial and artistic empowerment as they keep expanding their businesses. And so, because of you, I am very grateful.
What are you grateful for this year?
Have a wonderful Thanksgiving and remember – I'm always here to help you reach your next level of possibility.
Happy Thanksgiving,
Fabiana Claure