In the process of building my career I've always strived to align both my musical side as well as my business side.
It has not always been easy, and for a significant period of my life, my artistic side was kept dormant.
As time has gone by, I've realized how important it is to find a life rhythm that allows both sides to coexist in harmony.
Aligning the two worlds helps us keep an overall sense of artistic and creative fulfillment and also propels business growth in exponential ways.
That's why I strive to do this for myself.
And in the process of finding this musical and business synergy, I also help other musicians create this for themselves.
It's all about connecting your artistry to your business development strategy, rather than seeing creativity as an after-thought that can only be attended once we've fulfilled all our work-related obligations.
Apart from being a business coach for musicians and University professor/administrator…
There is a creator in me
There is a musician in me
There is an artist in me
And today I'm going to share an opportunity for you to get to know the artistic side of me.
Last year I presented the world-wide premier of my virtual multimedia lecture-recital, Women as Musician-Entrepreneurs: An Exploration of Fanny Mendelssohn, Clara Schumann, & Teresa Carreño's works and career ventures.
The program discusses the fundamental entrepreneurial skills needed to be a successful musician, using examples from three of the most influential and important women musicians of the nineteenth and early twentieth centuries.
In this presentation I perform beautiful piano music by amazing women composers, I talk about creative entrepreneurship, history of music, I explore multi-dimensional art forms – not only music but also spoken remarks and imagery.
These various artistic mediums provide for a variety of elements that give a comprehensive and immersive experience to the audience.
The program is now available to watch on demand via my website.
Even though the pandemic has not allowed me to perform this in person yet, it has allowed me to reach many more people around the world because of the virtual format.
I believe that this program is an example of what's in store for us in the future as artists in an ever-evolving industry.
My goal is that this program will show you how to see entrepreneurship as both a mindset and a discipline that can help create human connection, become empowered, and pursue your own definition of success.
By learning from the past, we can better understand the present and create a more successful future.
This program is the beginning of a conversation I want all of us to have.
This month is Women's History Month so the program is also particularly timely for anyone interested in exploring more about this topic.
I would love to connect with you through watching this. I'd love to know what is your key takeaway from this program that you will implement ASAP to make a difference in your business or in your career.
Watch Women as Musician-Entrepreneurs, now available on demand!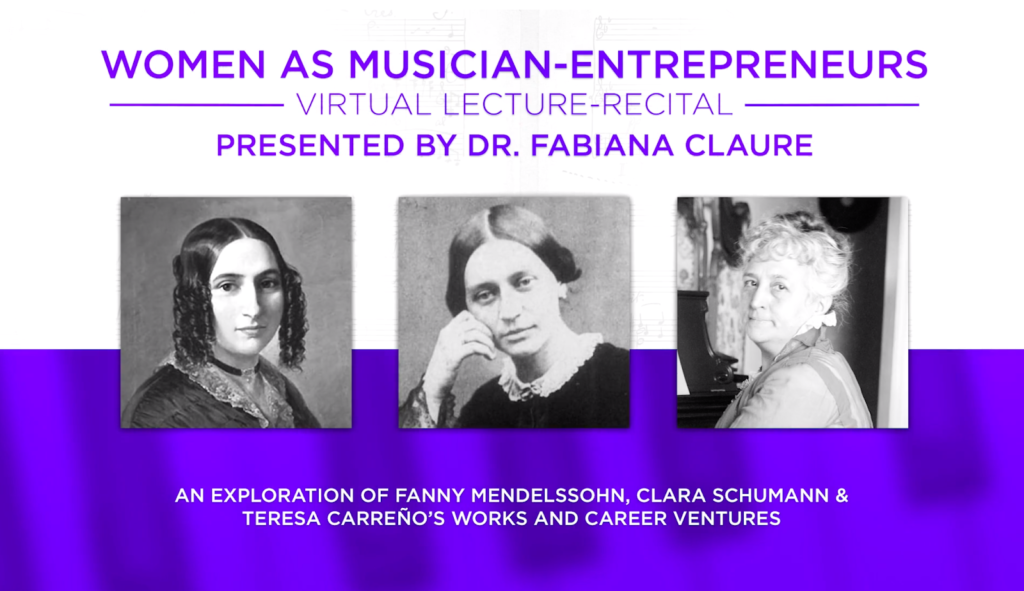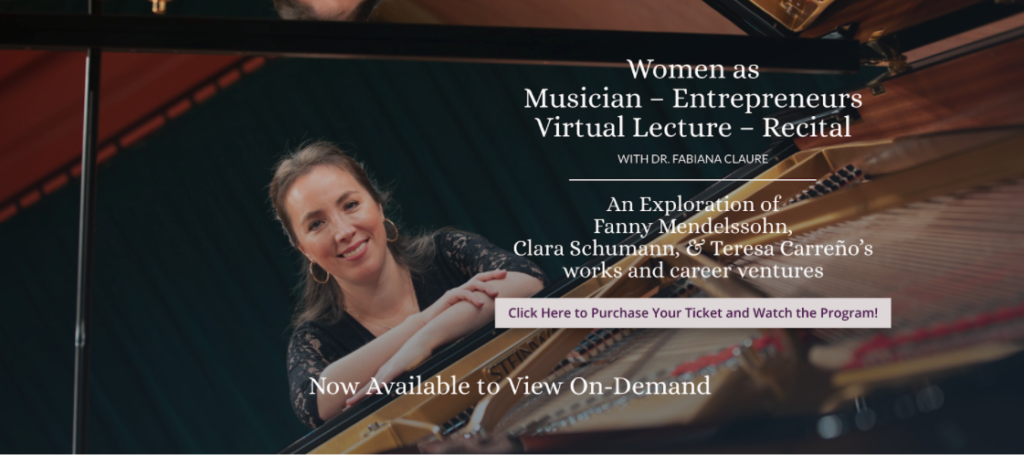 I hope this presentation can inspire the artist in YOU.