If you are haven't had a chance to catch up on last week's masterclass series, here are the links for easy access:
​Day 1 – The Musician's Profit Umbrella® Mindset Foundation
​Day 2 – Clarifying your vision and introducing high-ticket offers
​Day 3 – Designing your high-ticket offer and researching potential clients
​Day 4 – Learning how to become visible, attracting clients, and pitching
​Day 5 – Zoom Workshop with live Q&A with selected participants.
​All training assignments were all posted inside my FB group, Musicians Creating Prosperity.
Here's what a recent participant had to say about her experience going through these trainings.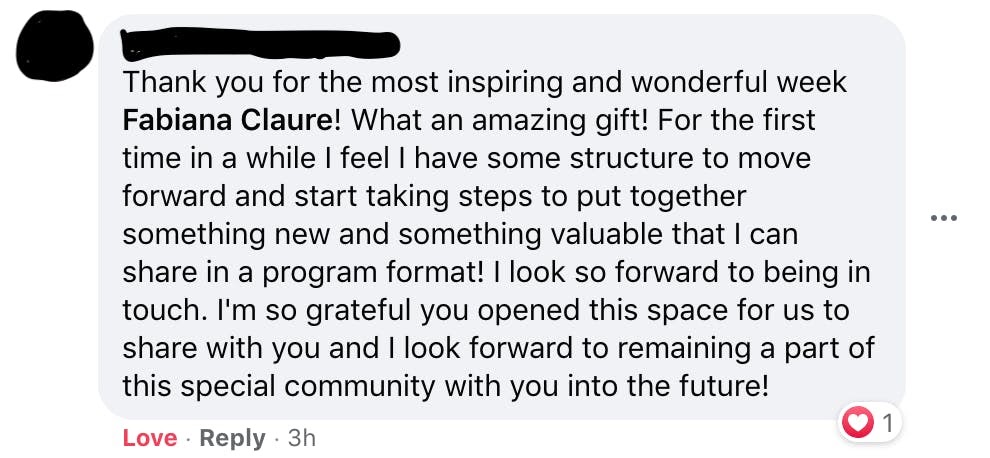 ​These trainings are part of what I cover in my 6-month business coaching program where I show musicians how to ignite their limitless life through financial empowerment and creative fulfillment.
​Not only have I used this strategy to help musicians, but I've also applied it towards my own life and career.
​My Musician's Profit Umbrella® blueprint has allowed me to co-found a multi-six-figure business called Superior Academy of Music, which I've had now for the past ten years. It also enabled me to effectively position myself in the academic job marketplace and to be appointed Founder and Director of the University of North Texas Music Business and Entrepreneurship Program.
​During this past year 2020, my Musician's Profit Umbrella® blueprint has allowed me to create a six-figure online coaching business for musicians amidst a global pandemic, working a full-time job, and co-parenting my two little boys.
If you'd like to learn more about my 6-month program and apply…
All masterclass videos will be taken down by Friday, January 22nd. If you missed the earlier trainings, I encourage you to watch the video replays inside my FB group Musicians Creating Prosperity (click here) as soon as you can.