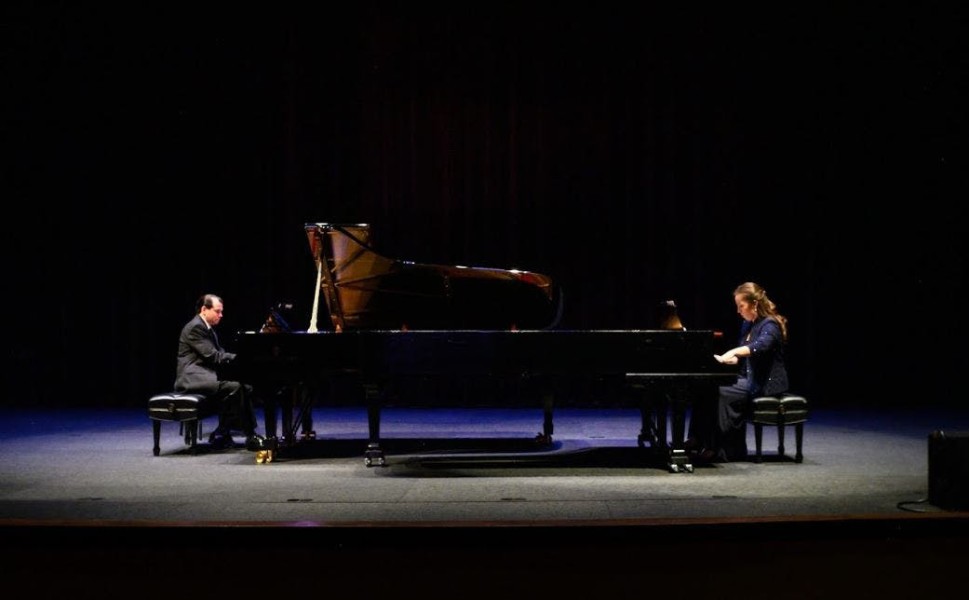 Do you ever miss your music?
You've built your whole life around your passion. You've practiced and performed to hone your craft for years or even decades.
Now, you're creating a business around your music to evolve into the next stage of your career.
But sometimes, it feels like something is missing.
I understand what that feels like. A year ago today, my husband William and I had the pleasure of performing our "Piano Journey Through Latin America" piano recital at the Charleston International Piano Series in South Carolina.
It was the first time we'd ever traveled alone to perform, leaving our kids under a dear friend's care.
The experience was surreal. It was strange to be apart from our kids, but at the same time, we were thrilled to have an opportunity to perform again in person for a live audience and feel like concert pianists all over again.
Playing for the Charleston audience was lovely, as was reconnecting with so many dear friends with whom we have stayed in touch since we lived there in the early 2000s. It gave us a chance to reflect on what a huge role the piano has played in our lives.
The piano has been a constant theme in our lives and part of many personal and professional milestones. It brought us together in 1996. It allowed us to move together from Cuba under full piano scholarships to study at the College of Charleston in 2001. It allowed us to continue all our degrees culminating in Doctorates in Music in Miami in 2011.
The piano also inspired us to start our first business, Superior Academy of Music, where we both taught piano full-time (along with everything else in running a business, of course!).
Now the piano grounds us, reminds us of our passion, and allows us to connect with our kids and transfer knowledge and experiences to them.
But these days, it's a juggling act to continue keeping our artistry alive while running two businesses, taking care of our two young boys, and trying to keep our self-care in check simultaneously.
I share this to encourage those of you who may feel that you miss being able to practice your instrument and lose yourself in your musical passion. Those of you who are also juggling everything in your life – know that I see you.
We're in this together, friends. Let's keep striving to achieve excellence in everything we do while not settling in any area of our lives.
I believe we can have it all if we only decide that we deserve it, we are worthy, and we have everything we need to thrive.
Everything is possible: prosperity, family, artistry, health, connection, impact, and legacy. You just need to believe it and dedicate every day in your life to playing your way through things.
Just like you do with your instrument. Play through the ups and downs. Play through the dissonances and consonances of life.
If you do this, you will enjoy not only the ultimate rewards but you'll also discover that, as John Lennon said in the song "Beautiful Boy," which I sing to my eldest son every night, "life is what happens to you, while you're busy making other plans."
Are you ready for prosperity AND passion? Not sure how to make it happen? I'm open for connection calls with established music business owners who need support combining their musical gifts with entrepreneurship.
If that's you, book a growth audit session with me here.