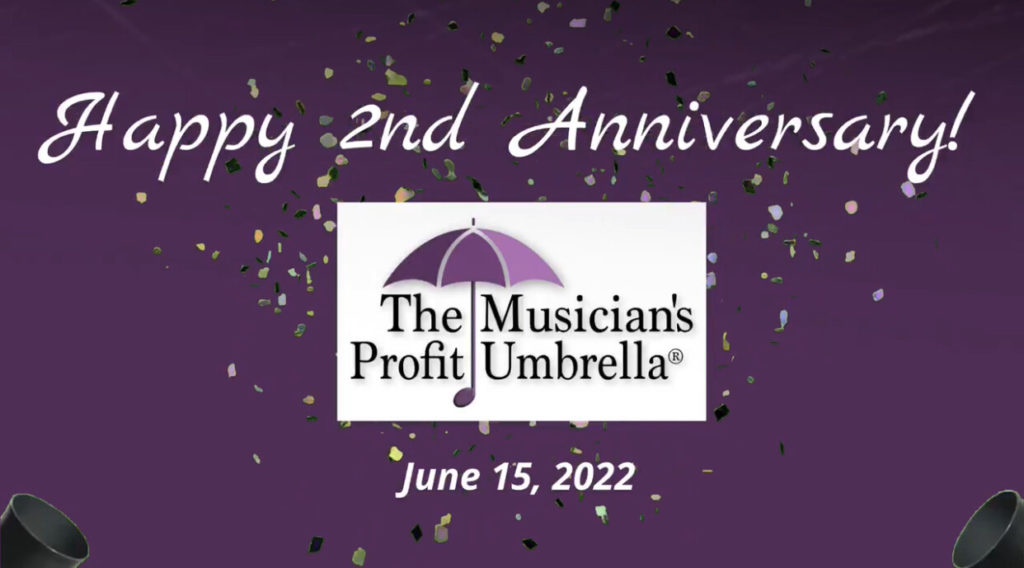 It's been a wild rewarding ride and this week we are celebrating the 2nd Anniversary of the Musician's Profit Umbrella program!
Looking, I am so grateful to see just how many businesses my clients have created as a result of this program and how their own lives, professionally and personally, have evolved.
The Musician's Profit Umbrella only came about because of many career twists and turns of my own. Through my own journey, I learned just what matters most (financial freedom, zero burnout, artistic expression and personal balance) and, through experience, what specific strategies and tools provide that.
Thus the Musician's Profit Umbrella was launched two years ago this week.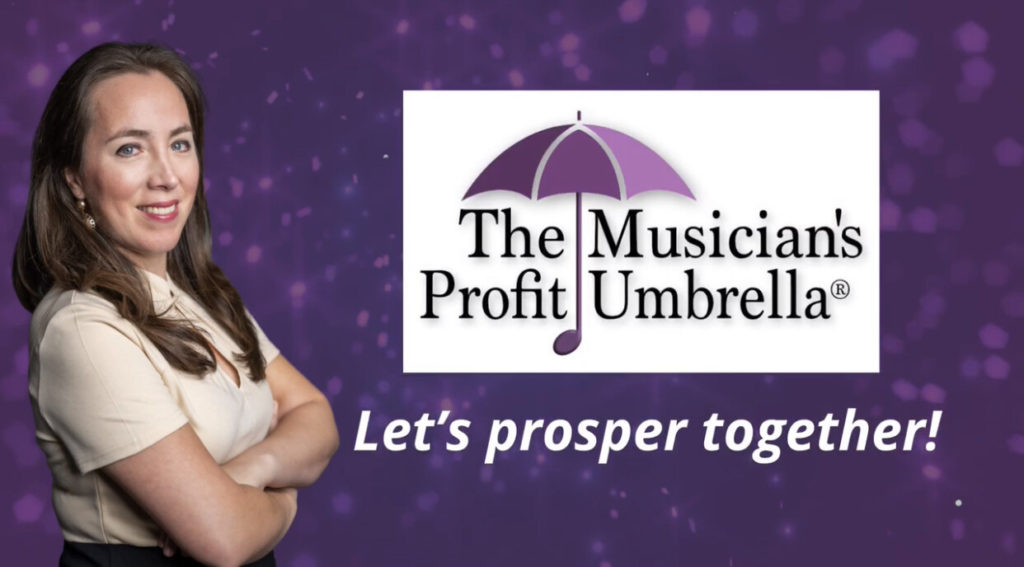 My entrepreneurial journey started with my own music school. But running a school and teaching students is more than a full-time job and I was burning out fast after five years. So I took a job teaching Music Business at UNT and that ended up being the decision that changed everything.
There, I found my spark returning, as I was helping students embrace an empowered, entrepreneurial spirit in the field they loved the most: music. I realized the time had come for me to start cultivating my ideal life.
I not only started performing again and I began building new courses, ones that had a specific purpose and enabled me to fuel a passion while delivering financial success. This journey led me to start researching the lives of entrepreneurial women concert pianists and composers which, after a number of iterations and varying programs, turned into the Musician's Profit Umbrella® Business Mentorship Program.
In 2020, uncertain times and shifting client needs then again led to the need for a new program. Everything I had experienced and cultivated, from leading clients to six-figure businesses to laying down paths for personal freedom, came together to become the Musician's Profit Umbrella.
Living a life without burnout is one of my core values – for myself and my clients – and so I realized that in order to truly live my life in alignment with those values, I would have to make some changes. In 2021, I stopped the University program I had built over the past five years in order to focus on my Musician's Profit Umbrella coaching business and create a lifestyle and balance that reaps financial prosperity – without sacrificing my artistic dreams or family life.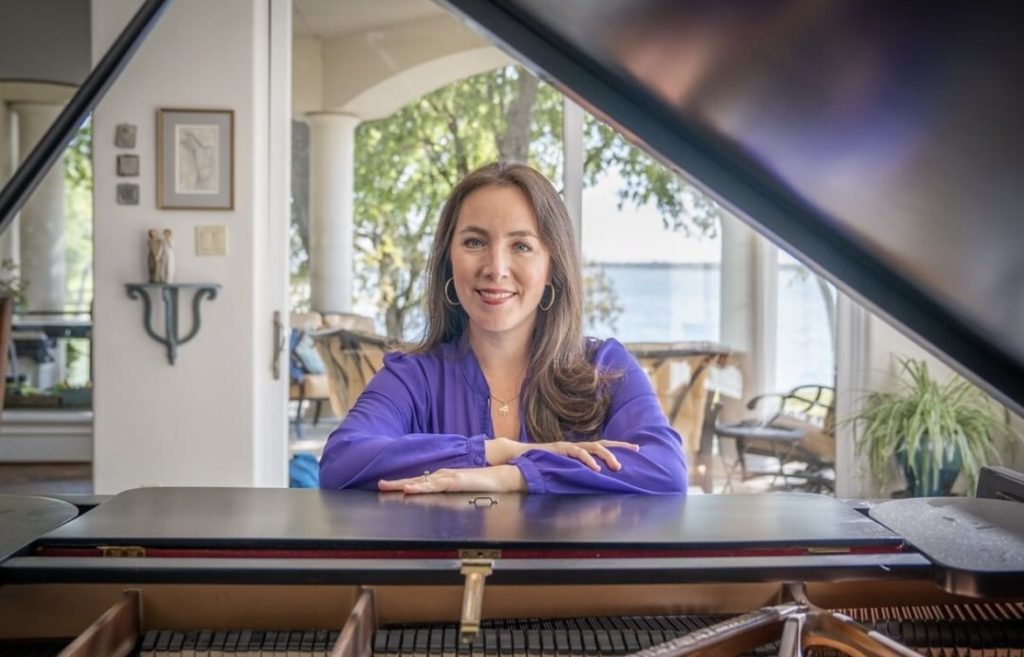 I believe that by creating our own businesses we can truly design our lives and achieve an empowered lifestyle that allows us to build financial freedom in a way that remains in alignment with our values and beliefs – without burnout and sacrifice.
At the end of the day, I've wanted to feel fulfilled as a human being and I know that pursuing the artistic side of my life would help me improve all areas of my life – including my parenting! I wanted to set an example for my kids and be able to honestly tell them one day that they can pursue anything they want in life.
It has been a personal delight for me to see my clients grow thriving businesses and experience profound personal transformations, expanding their income, extending their reach, and experiencing personal growth. I help musicians all around the world clarify their vision, unify their strengths and create new income so that they can live a financially-empowered, artistically-fulfilled, purpose-driven, and family-centered life. This program gifts them the lessons and systems that I've developed in my own entrepreneurial journey to use in growing their own six-figure music businesses. With the tools the Musician's Profit Umbrella program has given them, they soar.
That's what the Musician's Profit Umbrella program is all about. I empower other musician entrepreneurs to find the same freedom of balance. This course gives you the tools to build a wildly financially successful business while nurturing your artistic self and your personal life. And I am so grateful to have been able to help a plethora of clients achieve just that.
My Musician's Profit Umbrella program clients have shared with me a number of impressive successes stemming from our time together, including some of my favorite stories – from a client who secured her own first-ever client to a client who used the methodologies to experience her first $11,000 in sales day.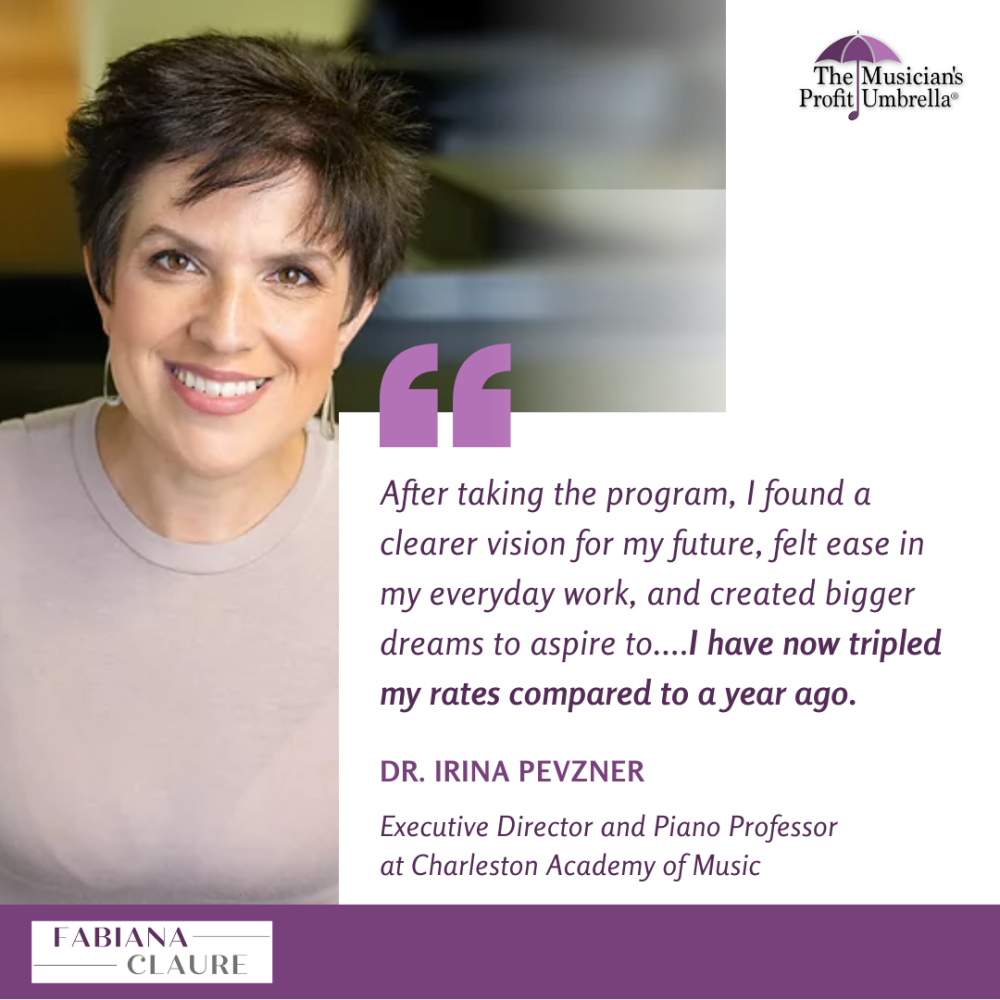 Dr. Irina Pevzner was kind enough to share her success and experiences with me: "After taking the program, I found a clearer vision for my future, felt ease in my everyday work, and created bigger dreams to aspire to… I have now tripled my rates compared to a year ago."
And seeing the personal strides clients make, such as Dr. Rachelle Davis, is immensely gratifying. "Fabiana is fabulous at seeing you, and your particular situation, and speaking wisdom to that, and helping you see a side of yourself that is not a side you've seen or willing to acknowledge."
How can the Musician's Profit Umbrella program help you build your dream life?
Book a call with me today to explore how the Musician's Profit Umbrella program can work for you to build the business of your dreams.
Many thanks and here's to many more anniversaries to come!
Let's Prosper Together,
Fabiana