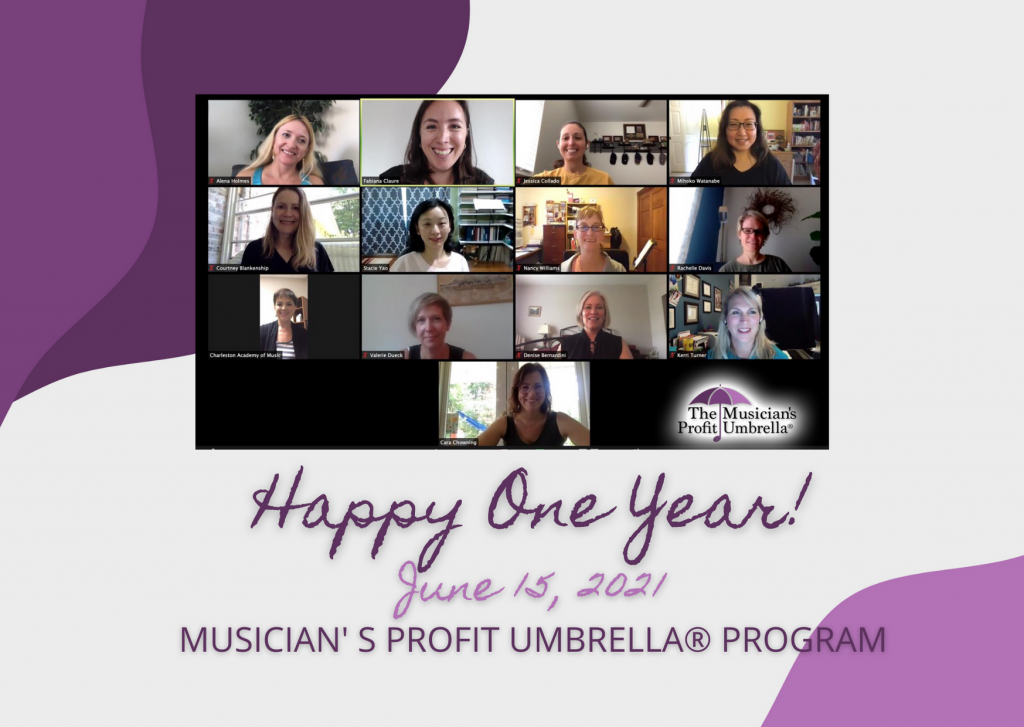 Today is a very special day.
It marks the one year anniversary of the Musician's Profit Umbrella® program launch.
I felt incredibly honored to have been able to gather an incredible group of musicians who decided to step up and take the journey of creating financial prosperity without sacrificing their artistic dreams or family life.
A year later, I look back at our inaugural picture with an incredible sense of gratitude.
I'm in a state of wonder and awe seeing what my clients have created since they joined the program.
They have…
✨Expanded their existing music teaching studios to new online models that are highly scalable, profitable, and reach highly motivated students all over the world.
✨Re-invented themselves and packaged their existing strengths in order to create new ways of offering services and value to people who will deeply care and are willing to pay premium prices to access their brilliance
✨Experienced a new level of clarity and understanding of who they are and what they want in life, laying the foundation to create new income by launching projects that are deeply fulfilling and impactful to those around them.
✨Packaged their skills by embracing not only their existing work-related activities but also their personal interests and their artistic projects so that they can create financial prosperity and still feel creatively fulfilled.
The businesses they created have not only transformed them, but I too have been transformed by mentoring them.
It has been a journey of personal transformation as much as it has been about building a business and creating financial prosperity.
And that's my favorite part of what this all entails.
But growth only happens when we overcome obstacles, when we lean into the uncomfortable, embrace vulnerability, and are willing to take calculated risks.
A year after launching my program I'm now fully immersed in this entrepreneurial adventure.
I quit my full-time University job and I'm 100% devoted to making this business an integral part of my life's calling and legacy.
I'm a firm believer that by creating our own businesses we can truly design our lives and achieve an empowered lifestyle.
Owning a business allows us to build financial freedom in a way that remains in alignment with our values and beliefs – without burnout, overwhelm or depending on external gatekeepers to decide for us.
Today, more than ever before, I truly believe that we can achieve anything in life.
We just need to have the right guidance, support system, and an unwavering belief in ourselves.
I am celebrating today having been able to support amazing musicians from around the world, while also discovering a new sense of purpose for my life.
I look forward to seeing what lies ahead!
Thank you for being a part of my online community.PS. If you'd like to learn how you too could create your own online business as a musician, join me next week for a FREE live masterclass where you'll learn how to design your very own high-end offer! Reserve your spot here!