As I embark on celebrating another year of growth, my heart swells with gratitude for the incredible community that surrounds me. This birthday week is not just about personal joy; it's a poignant moment for reflection, connection, and contributing to a cause dear to my heart. Join me in this special week as we delve into the essence of purpose, celebrate our collective growth, and come together to make a meaningful impact, perfectly aligning with the spirit of Women's Entrepreneurship Day.
As we revel in the joy and gratitude of my birthday week, I'm thrilled to intertwine this celebration with a cause that holds profound meaning. In honor of Women's Entrepreneurship Day, I invite you to join me in a virtual lecture-recital. This exploration delves into the lives of three trailblazing women musicians of the nineteenth and early twentieth centuries: Fanny Mendelssohn, Clara Schumann, and Teresa Carreño. It's not just a tribute to their musical prowess; it's a deep dive into their entrepreneurial spirit, showcasing how they navigated challenges and broke gender barriers.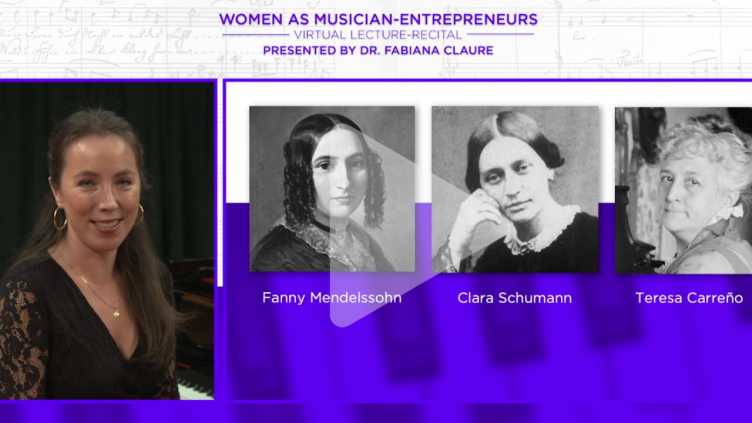 For every purchase of this lecture during my birthday week, a donation of $30 will be made to Save The Music—an organization dedicated to bringing the gift of music to children. This is a chance for us to learn from the past and create a tangible impact in the present, supporting the next generation of musicians and dreamers.
Let's make this Women's Entrepreneurship Day a truly memorable one, brimming with learning, sharing, and giving back. Your participation and stories not only enhance my birthday week but also contribute to a greater cause. Together, let's inspire and uplift one another, echoing the indomitable spirit of Fanny, Clara, and Teresa in their time.
Thank you for being an integral part of this journey. Here's to a week filled with impactful sharing, inspiring history, and collaborative efforts in making a difference. Happy Women's Entrepreneurship Day! Cheers to celebration, growth, and purpose!